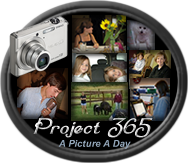 I seemed to be greatly food-oriented this week



Sunday





I was the sub for dinner in our Life Group tonight. I made Chocolate Stout Chili and a new bread recipe - Confetti Fiesta bread. It looked like the picture in the magazine (whew!) and from all accounts, it seemed to go over pretty well.




Monday





For your pixelated pleasure :). This week, I started the last round of Proving This Medication Doesn't Work. Unfortunately, that means taking the maximum dose and dealing with the maximum side effects which include (but are not limited to) nausea, fatigue, somnolence, numbness, and painful, sharp tingling in my hands and feet. I mean, really, if I'm going to have Spidey sense, can't I at least shoot nifty webs or something?




Tuesday





My newest granddaughter, Emery, modeling what my daughter calls "the latest in baby old man pants" :).




Wednesday





What I made for dinner tonight: Adobo Beef Tacos with Pickled Onions and Queso Fresco.




Thursday





Another dinner post :). Chicken Drumettes with Momofuku Vinaigrette. Recipe on blog.




Friday





My dad would have been 72 today.




Saturday





This is an avatar-like thing I've had on my desk for several years. Today, she is supposed to be encouraging me to work on the story residing on my jump drive. What you can't see is she is actually glaring at me because instead of the story, I currently have a game of Farmscape open on my computer.

Avoidance tendencies. I has them :P.