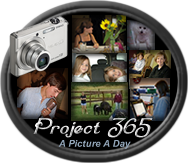 Sunday
Instead of watching the Superbowl, the Spousal Unit and I made a big bowl of popcorn and watched the last episode of the first series of the BBC's new retelling of Sherlock Holmes. It's quite good - updated for the 21st century while remaining very true to the source material.
Monday
My granddaughter, Rylie, exhibiting her unique fashion sense.
Tuesday
Nineteen years ago today, Sergeant Pepper didn't teach the band to play...but we did get married.
Wednesday
Work was closed today due to the Snowpocalypse so I spent some more time than usual reading my devotional book.
Thursday
The main ingredients from tonight's dinner: Buffalo Chicken Mac and Cheese.
Friday
Momma Frans is too kind - I think I must be a nerd because I am ridiculously excited about the fact that since we now have AT&T/U-verse (and that it comes with a DVR), I can now program my DVR from my iPhone. Did I mention "ridiculously excited"?
Saturday
We went hiking along the Isabella Jo trail down at Big Dam Bridge today. As you can see, I'm still futzing with the I-wanna-be-Photoshop program with the 3rd and 5th pictures :).