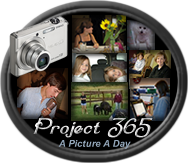 Sunday





My reward for cleaning all weekend. Only books would be better.




Monday





This became my new best friend this week. I called the doctor to get me off the Medicine of Nasty Side Effects and couldn't sleep while I was ramping the dosage back down.




Tuesday





I just went in to browse...




Wednesday





Please wish me well in my new career as a human pincushion :). This is the medicine my doctor and I are hoping will work. They had me do the first injection in his office to make sure I had no problems with it. I only found one. If you try to do this standing up and you are, um, generously endowed, it can make it difficult to see the section of tummy that you're currently trying to grab and stick! (Note to self: sit or lean way back when doing this!)




Thursday





These are the my gloves and they hang over my desk at work. I had several women come by to drop something off this week at my office, notice the gloves, and then start telling me how they've always wanted to do MMA, so I spent some time talking with them about what it can be like.


Friday



They said they only needed a few copies...




Saturday





We went to see this for the Spousal Unit's birthday and immensely enjoyed it.