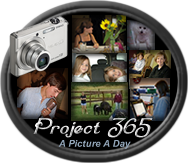 So, to recap: not participating as much because...well, I work, I go to school at night to finish my Master's. I work, I go to school at night to finish my Master's. I work, I go to school at night to finish my Master's...ad nauseum. I just can't really find many pictures that would be anything different other than the view from my desk or a page out of a textbook. And believe you me, I don't want to inflict a tome on tax policy on anyone else!
(Bug, I have your book. Life has been a little insane. I will try to get it in the mail this week. I think I still have the address...)
However, I have a few pics that I thought I would put up and share:
I finished a scarf I was working on and blocked it this week. It's four colors of yarn and a combination of garter and stockinette stitch. It was the first time I'd worked on circular needles with two balls of yarn at the same time. Scarf is almost 6' long.
My youngest granddaughter, Emery. Way too cute :).
I was on my way into Drug Emporium when I saw this license plate and had to take a picture. I swear, the first voice in my head was Apu from The Simpsons: "Mr. Simpson, please to not be feeding my god a peanut."
While waiting to check out in Drug Emporium, I saw this by the register. The cashier looked at me a little oddly for putting down my purchases and grabbing my phone but, seriously, how could I resist? It's LIP BALM, people! Doesn't the name just make you want to grab up a couple? (please note, they swear at the bottom that chicken poop is not an ingredient....uh huh.)
Otherwise, just trying to work my way through this semester. The amount of weekly reading for this semester's courses is astonishing. I'm studying again tomorrow so I can try to maintain being a week ahead. That means I'm not cramming to finish the reading so I can write the homework memos on the weekend. Really wanting some time to knit but not getting much. I have in progress:
1. Dress for Rylie
2. Cowl
3. Linen stitch scarf (I *swear* I am going to get that finished)
4. Hat for Monkey
Maybe tomorrow. I will go study for a few hours, go with the Spousal Unit to take his rental back to Hertz, and hopefully get some time to just sit without having to do anything after that except knit...read...maybe take a nap. Ohhhhhhh, a nap.
The diet progresses. I have lost 14 pounds in three weeks at last check-in. And although I have been ordered to not let dairy cross my lips minus the one ounce of milk I can have in coffee (there went my lattes, too. Grrrrr...), I have been given permission to use - within reason (darn!) - sugar free DaVinci syrups. Yay! 'Cause I hate black coffee.
I'm really not missing much else, though. The supplements are pretty decent tasting and I haven't had any desire to run screaming through a store and cramming carbs in my mouth like there was no tomorrow. The only thing I really want is a nice, big bowl of buttered popcorn. Oh well, maybe in three months or so...