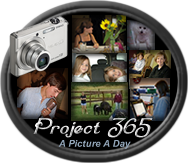 OK...once again, in no particular order:


Lunch. I was part of a Graduate School fair where we put on our bright shiny faces and answered questions about the programs we run. They were nice enough to feed us :).
Studying! I have two projects this semester (one requiring a Powerpoint presentation in addition to the paper itself) so I'm back spending several hours of Saturday and/or Sunday mornings at the local coffee shop as I work to create something out of many stats and journal articles (and try to remember again why I thought this was a good idea!)
Cat picture! Gracie was lying in the Spousal Unit's chair and watching me knit. She doesn't ever go for the yarn. She just seems to like to watch it move.
It was my 20th wedding anniversary this week and the SU sent me flowers. Since we were being dorks with each other on our iPhones, I was going for an especially cheesy grin.