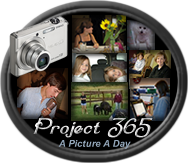 Sunday




Oh? You wanted to read?




Monday





I was up at this time a lot during the week while the Spousal Unit continued to "enjoy" the effects of his recalcitrant gallbladder.




Tuesday





Saw the doctor and the Spousal Unit is scheduled for surgery next Friday.




Wednesday





I mentioned her in last week's P365 entry under the "dunce" (as in "I was a...") entry. This is Janet, my awesome co-worker and also known as She Who Knows Where the Bodies are Buried.




Thursday





The Spousal Unit took a picture of me while I was cooking. It was meant to be a joke to send to my mom about something she'd said on the phone about my multitasking. Please note I am cooking dinner (chicken Marengo) while having already done my mise en place, *and* if you look closely, I also have my iPod playing in my ears. Huh. Who says I can't multitask? (Side note: stole one of the SU's shirts to protect against bacon grease splatter.)




Friday





For Momma Frans, who said she wanted to see what was *in* the bags from my shopping last week. The dress, necklace and wedges all courtesy of the shopping trip.




Saturday





First, since I know Sara will say something, I went to the Beth Moore conferene with her but do not have any pictures to post since I only had my phone camera (curse my sieve-like mind) and the few pics I tried did NOT come out. Ergo, I have substituted this picture of Curious Grace who was napping like this when I came home. I decided to follow suit - only without the spinal contortions and the mashing my face into the couch arm.